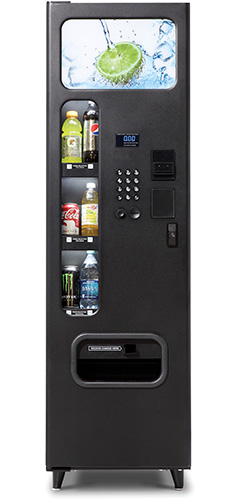 Remanufactured w/New Warranty
Stand alone Bottle/Can Cold Drink Merchandiser
Is Space An Issue?
We've Got The Perfect Fit.
68" H x 21" W x 33-1/2" D
SPECIFICATIONS:
Dimensions: 68"H x 21"W x 33-1/2" D
Electrical: 115V, 60HZ, 11.9 Amps
Capacity: 6 Selections, 312 cans, 144 bottles.
Refrigeration: 1/3 HP High efficiency (60
month warranty)
Features: Price each selection - from 0 -
99.95 in 5 cent increments, Digital readout,
Compact size, Easy & quick loading
Small Footprint: A "traditional" can/bottle vendor's footprint is
42" x 36". This unit is only 21" x 33-1/2".
Product Delivery Sensor guaranteeing product or credit!
Illuminated product display by selection enhances impulse sales.
Our Designer Cold Drink Series Brings It All Together
Vend all national name brands from one machine. And our easy loading procedure allows you to have ice cold product on hand at all times. Any row will vend a can OR a bottle and with no special adjustments required for 12 oz. cans or 20 oz. bottles.