The 30 selection Chill Center E is designed to provide the best refrigerated food service available. A wide variety of packaged meals, sandwiches, salads, dairy, fresh fruit & beverages are softly served via a patented elevator delivery. Equipped with the latest in electronic controls, electronic coin changer and bill acceptor as well as our money back vend sensing technology this vendor is one of the most versatile and profitable food machines available.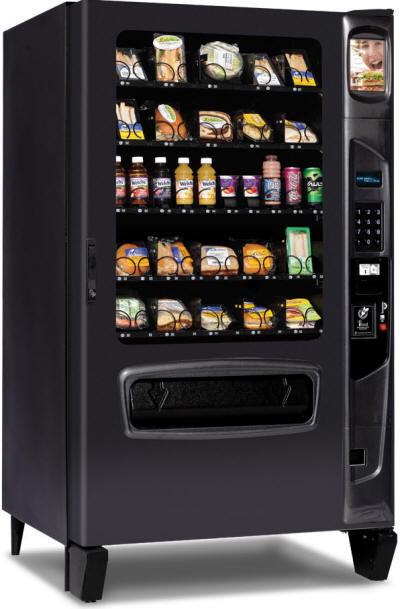 Selections

30 Standard Items

Capacity

115 Food Items; 58 Beverage

Maximum Pricing

Individual from $0 to $9,999.99

Payment Systems
Premium electronic coin acceptor; $1, $5, $10 & $20 Capable Bill acceptor (Factory
set for $1 & $5)
Electrical
Requirements
115 VAC/60Hz, 10 AMPS (230 VAC/50Hz, 5 AMPS)
With heated glass active 115 VAC/60Hz, 11 AMPS (230 VAC/50Hz, 5.5 AMPS)
Refrigeration

Environmentally Friendly Super 1/3 HP, R134a Closed System

Ship Weight

*831 lbs. (376.9 kg)

*Varies with configuration & options.

Standard Features
Black Diamond Styling Package, LED Lighting, iVend® Sensor System, Can & Bottle
Tray, Heated Glass, Motor Pairing Capability
Options

Credit/Debit Card Reader

Elevator Gently Delivers a Wide Range of Pre-Packaged Foods
Packaged Meals, Salads, Sandwiches, Juices, Carbonated Beverages, Fresh Fruit, Dairy Products Including Milk & Yogurt - More!!